Summary
Our electricity generation is mostly dependent on fossil fuels like coal, oil and natural gas. However, the fossil fuels are depleting and by the end of this century we may not have the required supply of fossil fuels left to meet our electricity generation needs. Moreover, unprecedented use of fossil fuels has also impacted the environment severely. Many developed countries like Germany, New Zealand, Denmark and others have plans to shift their electricity generation to all renewable sources by 2050. Although renewable sources are cheaper in the long term their initial setup cost is quite high. While the developed countries can afford financial resources to shift the electricity generation to renewable sources, a country like Pakistan does not have enough financial resources to shift its electricity generation entirely to renewable sources using the borrowed plans and models of the developed countries. We believe that we can develop a relatively cheaper plan to shift the electricity generation to all renewable sources by solving one of the biggest challenges of renewable energy. The biggest technical challenge that the renewable sources present is the issue of intermittency. Most renewable sources like solar, wind and others are not controllable thus are not schedulable. This means that the generation is dependent on the available sunshine and wind speed for solar and wind energy respectively.

We believe that in Pakistan we can manage a 100% renewable scenario without requiring extra storage of electricity. This is possible by matching the demand with the available supply of electricity as opposed to matching the supply of electricity with the demand in developed countries. This demand matching with the supply requires an inter-disciplinary approach, where technological development and innovation is amalgamated with an understanding of the user perspective, taking insights from social practice theory. For this, in the first instance, we propose to develop a Deeply Intelligent Distribution System (DIDS). DIDS uses the elasticity of demand to match it with the available supply using Intelligent Forecasting and AI-based Demand Side Management.

To this end, DIDS will have three kinds of electricity loads: Elastic, Semi-Elastic and Inelastic. We plan to develop a simulation model of DIDS with a large number of renewable generation sources and a myriad of Elastic, Semi-Elastic and Inelastic loads. Moreover, to understand the load distribution, occupant behavior, regarding energy consumption practices, needs to be better understood. Occupant energy studies reveal that a better, more accurate context-driven understanding of behavior requires the acquisition of theories of social sciences for qualitative analysis, applied in conjunction with quantitative data collection. This will provide a more holistic perception of occupant-energy interactions. The simulation will take into account realistic electricity supply and demand scenarios for the year 2020, 2030, 2040 and 2050 in Pakistan. Furthermore, this project will also involve the design and evaluation of a prototype for an energy feedback system for consumers, with the aim of optimization of load elasticity and distribution, for efficient demand side management and response.
Visual Representation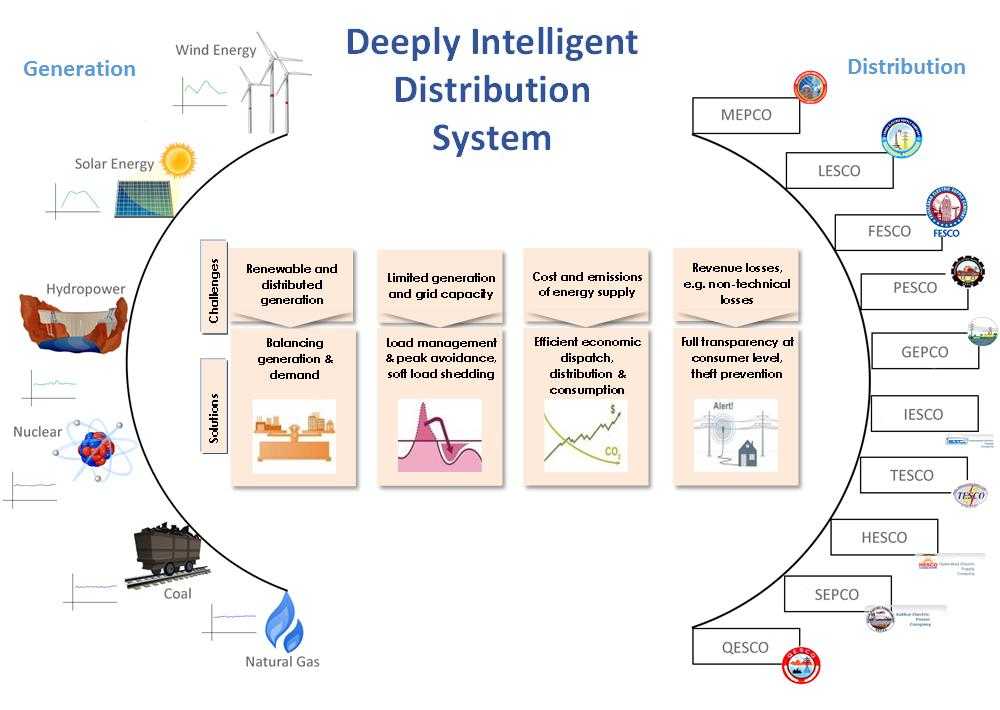 Current Team
Muhammad Usama
Muhammad Ahmad